ABOUT US
---
INNOVATIVE MATERIAL DESIGN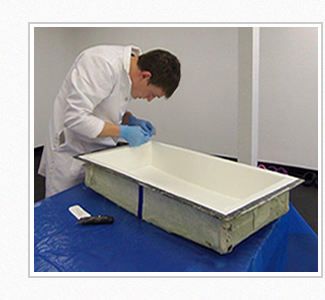 Advanced Composite Technologies, Inc. is an innovative materials product development and manufacturing company. ACT was formed in 1987 and has established the reputation for integrating existing products or concepts to enhanced state-of the art or newly defined material's' application products. Our capabilities are comprised of raw material development, design, prototyping, process development, manufacturing and repair of componentry.
OUR FACILITY
Our 36,000 square foot facility houses two clean rooms, two dirty environments, cold storage, small machine shop, spray booth, mechanical and quality test labs. We house two 1200 square foot training rooms for on-site training of FAA, US Coast Guard, DOD entities and private concerns in the fields of repair of composite structures and aging aircraft. Onsite processing equipment: 2 autoclaves, 5 ovens, thermal press, process controlled heat blanket (hot bonders) and a pressclave.
TYPES OF MATERIALS



Thermoplastics and Thermalsets of all types with all reinforcement forms, including exotics. Other materials include syntactics, bulk molding compounds and membranes.